Applications are typically accepted on a pipeline basis. Our application process is currently closed, and we will begin accepting applications again in late 2022.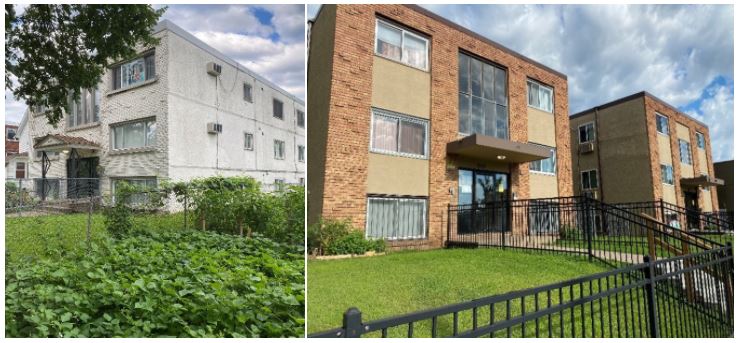 31xx Pillsbury Avenue S 30xx Pillsbury Avenue S
The properties above are part of larger portfolio purchased by Aeon in 2019 using the Minneapolis NOAH Preservation Fund.
Rent and income restrictions
NOAH portfolios must contain 75% or more units that are affordable to households making less than 80% of the Area Median Income (AMI); and 20% of those units must be affordable to households making less than 60% of AMI.
A preference is given to projects with the highest numbers of affordable units.
Loan terms
Deferred loans of up to $35,000 per unit with 0% interest with 10-30 year term are available to assist with acquisition financing of NOAH properties. Funding awards are tied to the number of 60% AMI units. Preference is given to projects that preserve affordability for longer than 10 years.
Application process - currently closed, will re-open in late 2022
Eligible borrowers are non-profit housing owner operators, or limited partnerships or limited liability companies in which the managing general partner or managing member is a non-profit corporation, or public agency, with a mission to provide long term affordable housing opportunities and demonstrated experience and capacity in owning and operating high quality and well managed affordable housing; the Land Bank Twin Cities, Inc; or for-profit housing owner/operators with demonstrated experience in real estate ownership, operations or development serving BIPOC (Black, Indigenous and People of Color) renters.
Applications for NOAH funds are on a rolling basis.