Applications are typically accepted on a pipeline basis. Our application process is currently closed, and we will begin accepting applications again later this year.
Sign up for the NOAH Preservation Fund email list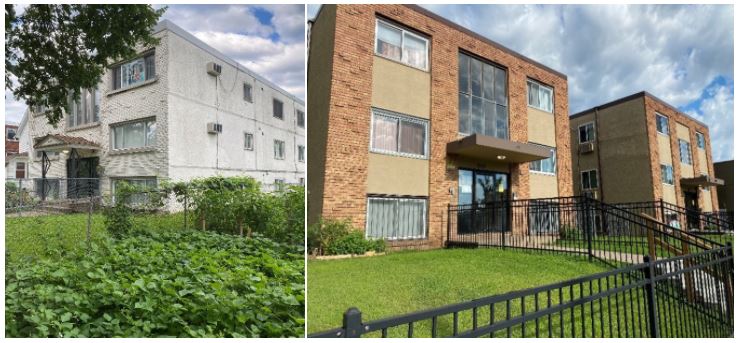 31xx Pillsbury Avenue S 30xx Pillsbury Avenue S
The properties above are part of larger portfolio purchased by Aeon in 2019 using the Minneapolis NOAH Preservation Fund.
Rent and income restrictions
NOAH portfolios must contain 75% or more units that are affordable to households making less than 80% of the Area Median Income (AMI); and 20% of those units must be affordable to households making less than 60% of AMI.
Borrowers are required to commit to a fixed number of affordable units for a fixed time frame when applying for NOAH Preservation Fund loans.
Loan terms
Deferred loans of up to $35,000 per unit at or below 60% AMI with 0% interest for a 10-30 year term are available to assist with acquisition financing of NOAH properties. Borrowers are encouraged to include more deeply affordable units, and the City may award up to $40,000 for each unit at or below 50% AMI. Priority is given to acquisitions that have higher numbers of deeply affordable units, and that preserve affordability for longer than 10 years.
Application process and resources
Sign up to receive email updates about the next application window
Follow the link and check the NOAH Preservation Fund box under "Housing & Development."
Pre-application requirement: all borrowers must complete a pre-application meeting with NOAH program staff. To schedule a meeting, email the Naturally Occurring Affordable Housing Preservation Fund team

Include the address of the property you plan to acquire when requesting a meeting.
Plan on completing a financial proforma for the proposed acquisition prior to the pre-application meeting.