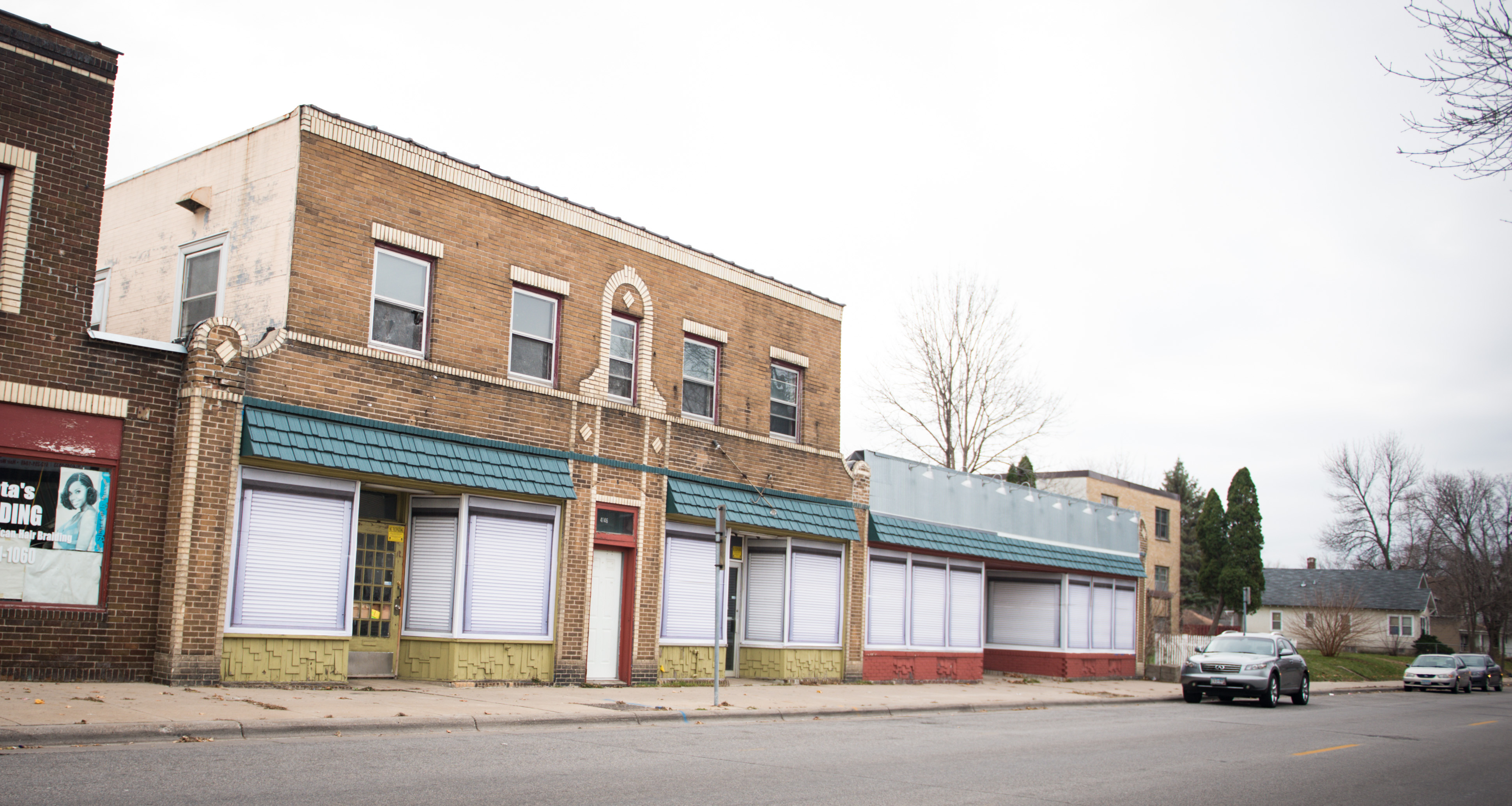 Request for proposal information
The City of Minneapolis sought redevelopment proposals for two commercial buildings located at 4146 Fremont Ave N in the Webber-Camden neighborhood of North Minneapolis. The buildings contain approximately 7,000 square feet of ground-floor commercial space. One of the buildings includes a second floor with 4 vacant apartment units totaling approximately 2,500 square feet. The development goals for the site include redeveloping the vacant storefronts and providing retail goods and services to the community that will support the commercial and residential activity near the 42nd & Fremont intersection.
From the request for proposals (RFP) process, the City Council granted exclusive development rights for the property to Ideal Development Group LLC (IDG). IDG is owned by Jamil Ford, who is also President of Mobilize Design and Architecture located in North Minneapolis.
Project plans are for multi-tenant commercial spaces with a restaurant, bookstore, event space and art gallery, and office spaces on the second floor. The project is named "Baldwin Square" after the African American writer, James Baldwin. Jamil Ford and other investors comprise Baldwin Square Group LLC, the entity that will ultimately own the Fremont real estate that will be developed by IDG.
In September 2020, the City Council authorized the sale of the property to Baldwin Square Group LLC and approved associated redevelopment terms. On May 9, 2022, the Planning Commission approved the site plan for the project.
The development team has secured funding commitments for the project from the City, State, Hennepin County and the Metropolitan Council, and is currently working to finalize leases with the retail and office tenants and secure the remainder of private financing needed to construct the project.
Site details
Address: 4140, 4142, 4144 , 4146 Fremont Ave N, Minneapolis MN, 55412
Lot Size: 0.29 acres
Ground-floor retail: 7,000 sq. ft.
Second story (office or apartments): 2,500 sq. ft.
Basement (storage): 5,200 sq. ft.
All spaces are vacant, renovation needed
Zoning: Corridor Mixed Use
Year built: c. 1926
Located directly on high-frequency bus route
Parking: rear lot