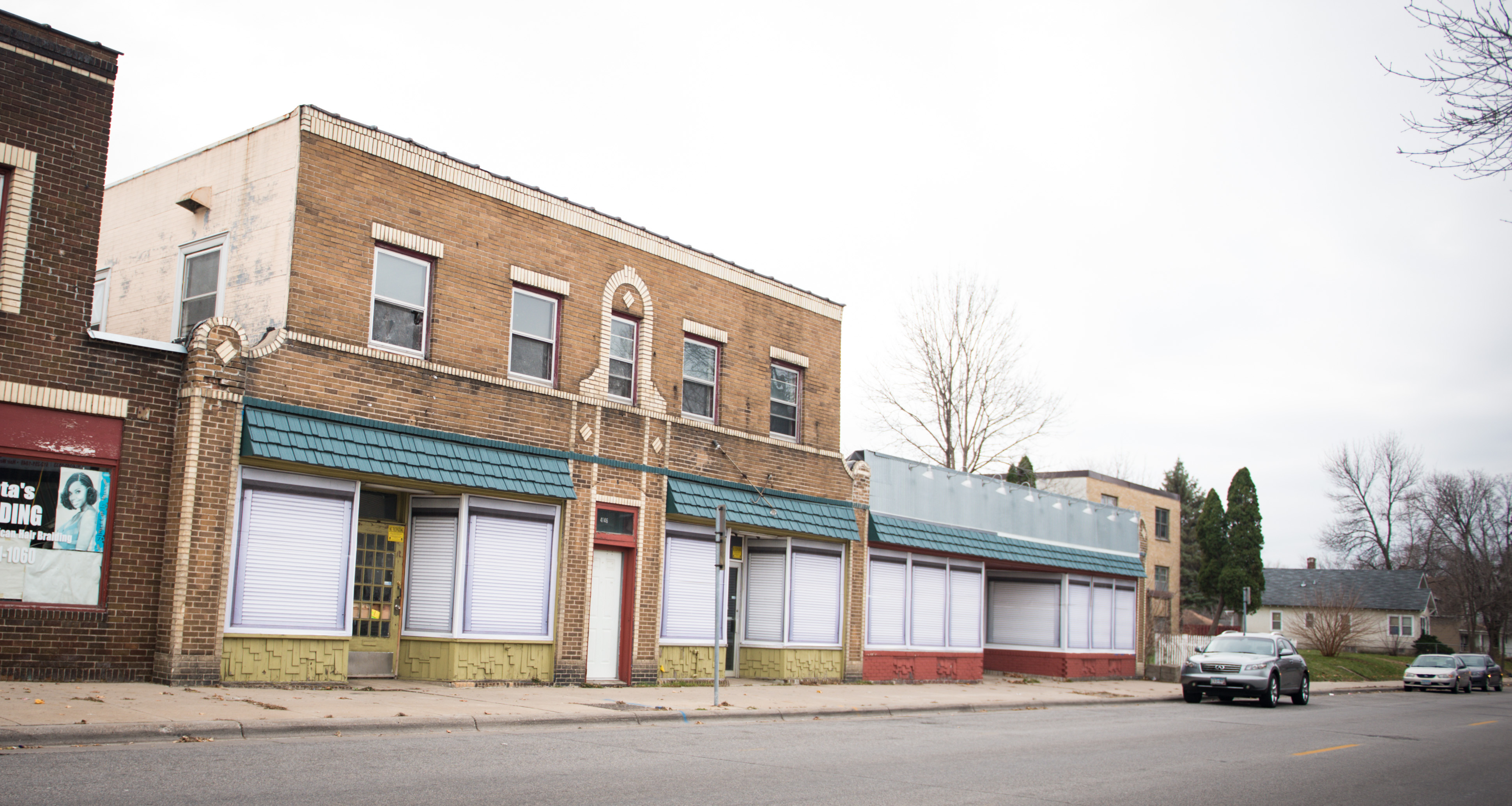 Request for proposal information
The City of Minneapolis sought redevelopment proposals for two commercial buildings located at 4146 Fremont Ave N in the Webber-Camden neighborhood of North Minneapolis. The buildings contain approximately 7,000 square feet of ground-floor commercial space. One of the buildings includes a second floor with 4 vacant apartment units totaling approximately 2,500 square feet. The development goals for the site include revitalizing the vacant storefronts and providing retail goods and services to the community that will support the commercial and residential activity near the 42nd & Fremont intersection.
The Minneapolis City Council on June 16, 2017 granted exclusive development rights to Ideal Development Group. In May 2018, the Minneapolis City Council provided an extension of development rights to Ideal Development Group, to May 15, 2019.
The staff recommendations were based on the extent to which the proposals met the evaluation criteria, including specific development objectives, listed in the November 2016 RFP. Staff also considered public feedback received throughout the RFP process, including feedback received at an April 12 open house held at the Webber Community Center. Below is a summary of the proposals presented at the open house:
Summary of proposals received and the RFP materials
Summary of proposals received in response to the RFP (PDF)

Request for Proposals document

Exhibit A: Pro Forma Template

Exhibit B: Consent for Release of Response Data

Exhibit C: City Contracting Requirements

RFP Question and Answers (PDF)
Project overview
The City of Minneapolis, working through its Department of Community Planning and Economic Development (CPED), seeks to reactivate these two buildings located at an important intersection in the Webber-Camden neighborhood of Minneapolis. The City of Minneapolis acquired the property out of tax forfeiture in 2015. The redevelopment opportunity consists of two buildings: 4140 to 4146 Fremont Ave North. The northernmost building includes two commercial storefronts on the ground floor and four apartment units on the second floor (which could also be converted to offices). The southernmost building consists of two commercial storefronts on the ground floor.
The buildings are in fair to poor condition and will require significant rehab. Attached is a Property Condition Report which identifies several items that need immediate attention. In addition to the items identified in the Property Condition Report other costs to be considered include improvements related to: ADA compliance, fire suppression system (building is not sprinkled), tenant improvements, etc. Specific building code requirements will depend on the ultimate reuse of the buildings. The City is not interested in proposals that include demolishing these buildings.
Additional property information
Site details
Address: 4140, 4142, 4144 , 4146 Fremont Ave N, Minneapolis MN, 55412
Lot Size: 0.29 acres
Ground-floor retail: 7,000 sq. ft.
Second story (office or apartments): 2,500 sq. ft.
Basement (storage): 5,200 sq. ft.
All spaces are vacant, renovation needed
Zoning: C1, Neighborhood Commercial
Year built: c. 1926
Located directly on high-frequency bus route
Parking: rear lot
Price: TBD
Attachments
Property Condition Report (Liesch Associates) (pdf)

Phase I Environmental Site Assessment (Landmark Environmental, LLC) (pdf)

Hazardous Materials Survey (Parks Environmental Consulting, Inc.) (pdf)

Supplemental Hazardous Materials Survey (Liesch Associates) (pdf)

Lead Assessment (Vieau Associates, LLC) (pdf)

Structural Report (Collaborative DesignGroup, inc.) (pdf)

CPED marketing brochure
Go to Hoodstarter.com – share your ideas for this project
"Hoodstarter uses the power of the crowd to help fill vacant properties faster and with businesses that will last. With Hoodstarter, community members are given the chance to suggest what should move in to vacant spaces"
Go to Hoodstarter.com and post ideas of what you would like to see in this space.
Stay updated
For project updates or general questions please contact Emily Stern.