About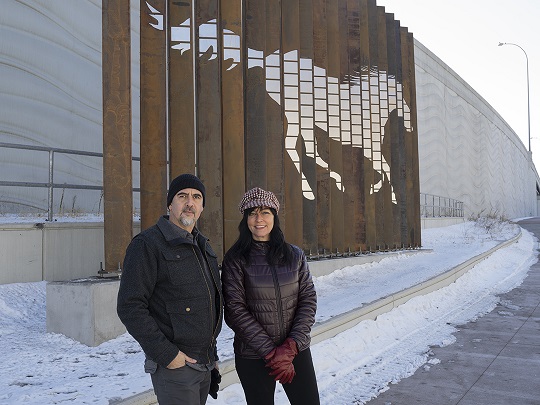 Partners: Public Works, MNDOT
Budget: $250,000
Status: The sculpture has been installed. Lighting for the artwork will be installed this spring.
The Green Crescent Project, part of the 35W@94 project, is a one-block throughfare between Stevens Avenue and I-35W and Lake Street and the Midtown Greenway. It serves as a high-quality pedestrian and bicycle link for community members, commuters, visitors, and anyone making a connection between the Midtown Greenway, Lake Street, and a new transit facility and plaza.
Artists Maria Cristina ("Tina") Tavera and Xavier Tavera designed a lenticular artwork. The sculpture transitions visually as the viewer passes by. Moving north, towards the Midtown Greenway, a horse becomes visible. Progressing in the other direction, south towards Lake Street, a flock of birds appear. The artwork is dynamic to encourage movement.
The image of a horse was chosen because it is important to numerous Native American communities and revered by Black, African, Hmong, and Mexican cultures. The horse running free without a rider also references the dismantling of social hierarchies. The birds are a symbol of the people who have migrated to this region as it is the most diverse area in Minnesota.
The sculpture is made of twenty, sixteen-foot-high Corten weathering steel columns, spanning approximately thirty-three feet, with stainless steel inserts, and will be lit externally.