About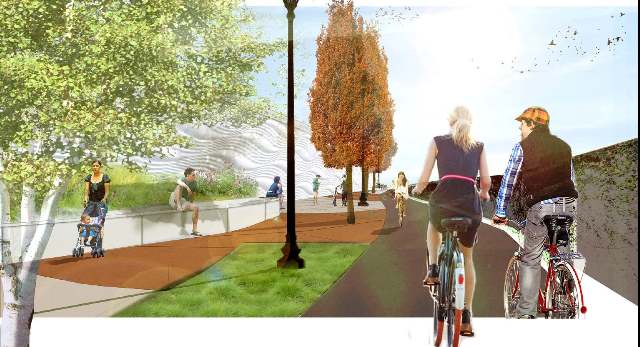 Partners: Public Works, MNDOT
Budget: $250,000
Status: This project is in the design phase.
The Green Crescent Project, part of the 35W@94 project, is a one-block stretch of green space that will be between Stevens Avenue and I-35W and Lake Street and the Midtown Greenway. It will serve as a high-quality pedestrian and bicycle link for community members, commuters, visitors, and anyone making a connection between the Midtown Greenway, Lake Street, and a new transit facility and plaza.
Artists Maria Cristina ("Tina") Tavera and Xavier Tavera were selected by a panel comprised of community members, artists, arts and design professionals and others to design public artwork for this space. They are currently conducting engagement activities in the community.
Goals of the public art project include:
Be a welcoming safe space for all residents in the adjacent neighborhoods as well as for daily commuters and one-time visitors.
Be a bold, iconic gateway and/or wayfinding tool that orients people between Lake Street, the Green Crescent and the Midtown Greenway.
Be an inspirational, anchoring element that commemorates and celebrates the rich culturally diverse communities in the area and their community histories, and is inspired by input from community members and local artists.
Be a grand and timeless gesture that is thoughtfully integrated into the design of the I-35W/Lake St. Transit Station, the Green Crescent and the Midtown Greenway.
Be durable and maintainable in Minneapolis' climate and urban environment.