About Creative CityMaking
Creative CityMaking (CCM) is a program of the Office of Arts, Culture, and the Creative Economy that brings artists and the City of Minneapolis staff together to stimulate innovative thinking and form new practices to create a more responsive government. Creative CityMaking addresses racial inequities by cultivating meaningful intersections between City staff and experienced community artists.
Creative CityMaking and the 2020 Census Collaboration
The census has long been a tool used by the government to organize and provide resources to communities, but it has undercounted the same communities that are underrepresented in decision-making. Taking the lead from the community, the City has decided to take a different approach to the 2020 Census by investing early in undercounted communities in partnership with Creative CityMaking (CCM) and work with community-based artists to ensure everyone feels empowered to be part of the census. The City's interest in collaborating with artists on this project is to ensure the voices and experiences of historically undercounted communities are reflected in our work to ensure a complete and accurate count.
The Artists
Community artists, Anna Meyer and Roxanne Anderson were selected from a panel to work alongside the City's Neighborhood and Community Relations Department on the WeCount Minneapolis Census 2020 project. Both artists have dedicated their lives to mobilizing, healing, and training communities. Anderson has won countless awards for their work, while Meyer has years of experience working for local and national LGBTQ and BIPOC communities including two decades with youth and families experiencing homelessness in the Twin Cities and Washington DC. Meyer and Anderson manage and create platforms through their work with RARE productions, and were owners of the beloved Cafe Southside. Anderson is now the Director of the Minnesota Transgender Health Coalition, and Meyer works as a Biodynamic Craniosacral Therapist.
The Project
The Artists developed 3 Strategies of implementation for the 2020 Census project:
Strategy 1: To create a visual image that is from, represents, and speaks to communities that are historically undercounted during the census activity. The image will be designed to build connection and trust with historically undercounted communities
Strategy 2: To curate multiple oral/performance-based products. Through the trusted relationships of the artist, five-six "We Count stories" will be cultivated. The stories will further the message of "We Count" centered in the concept told by us, for us, with us. The messages will be recorded electronically and shared publicly via YouTube.
Strategy 3: To create an online YouTube channel for all community residents to identify, create and share their census stories and for community leaders and city staff to access census stories to share with community members.
The Outcome
CCM artists Anna Meyer and Roxanne Anderson have collaborated with the City's Neighborhood and Community Relations Department to use creative processes to identify meaningful messages. CCM artists curated social justice artists with deep connections to our undercounted communities such as:
We Count, And We Will Be Counted, By Ricardo Levins Morales
We Take Control, By Council Member Vice President Andrea Jenkins
Be Seen, Be Heard, Be Counted, By Sophia Fesser
Additionally, the We Count YouTube Channel was launched by CCM Artists on April 1st, National Census Day. This channel acts as a platform for census community stories and music. To participate and send videos please email Teeko Yang at Teeko.Yang@minneapolismn.gov
For more information on Creative CityMaking artists, please click here. We encourage community members, organizations, and institutions to use the Creative Mobilization Tools to engage with their own communities. We have seen prints of these on T-shirts, posters, postcards, and more. For access to the artists' work, please contact Alberder Gillespie at Alberder.Gillespie@minneapolismn.gov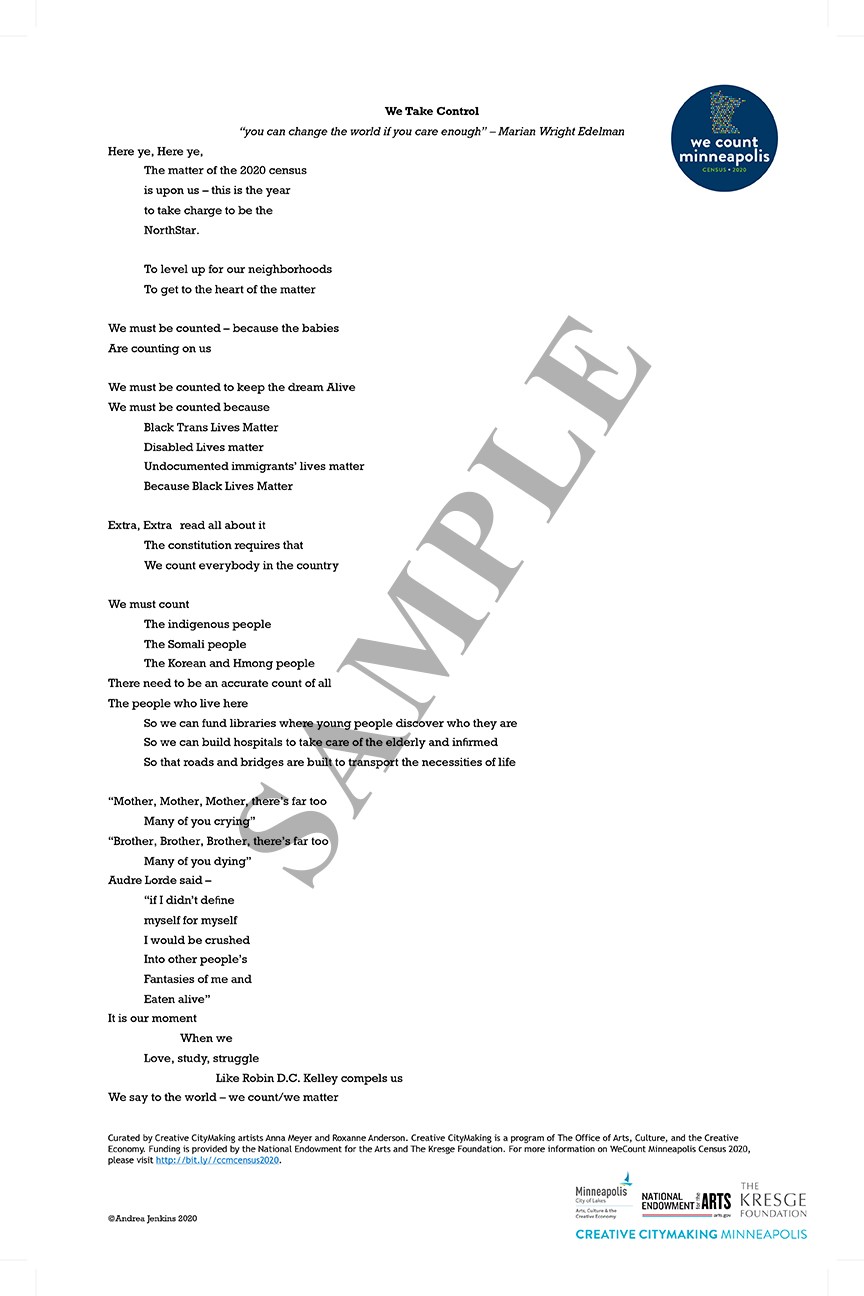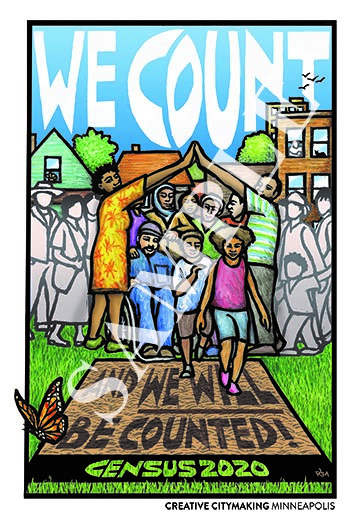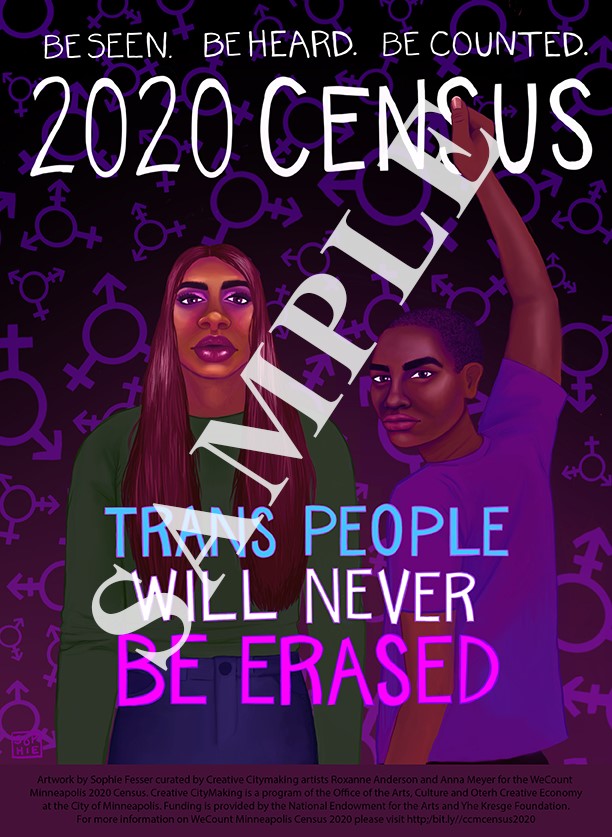 Curated by Creative CityMaking Artists Roxanne Anderson and Anna Meyer for the WeCount Minneapolis Census 2020. Creative CityMaking is a program of The Office of Arts, Culture and the Creative Economy at the City of Minneapolis. Funding is provided by the National Endowment for the Arts and The Kresge Foundation.