The City of Minneapolis has approved a green fleet policy to help the City maintain its commitment to sustainability while reducing the short-term and long-term costs of City vehicles. Cars and trucks are the largest contributor of air pollution within Minneapolis and are a significant source of greenhouse gases. Air pollution is linked to increased rates of cancer, heart and lung disease, asthma and allergies. Carbon dioxide pollution, a greenhouse gas, causes climate change.
This policy continues work the City has already begun in greening its fleet and provides clearer direction and standardized practices for all City departments. Minneapolis is one of the first government agencies in the Twin Cities metro area to implement a green fleet policy.
Minneapolis' Green Fleet by the numbers
2 Plug-In Hybrid Vehicles
71 Hybrid Vehicles
3 All-Electric Vehicles
404 Flex Fuel Vehicles (vehicles that can use E85 ethanol fuel or unleaded fuel)
290 Bio-Diesel Vehicles (vehicles that use a blend of diesel fuel, fats, and oils)
1 Dust-Free Street Sweeper (sweeps the street and is 99.9% dust free during operation)
Interesting fleet facts
All existing heavy vehicle equipment has been retrofitted with a diesel after-treatment filter that cleans the exhaust to a level cleaner than the air going in.
City Fleet operates two ethanol fueling sites – Hiawatha Maintenance Facility and Currie Maintenance Facility
All newly purchased fire truck vehicles are 100% stainless steel with a colored wrap to eliminate rust and paint maintenance.
All oil used in the City's fleet is re-conditioned oil and is recycled after use.
Large truck and loader tires are re-treaded in order to extend life and improve cost effectiveness. All spent tires are recycled.
Commitment to using green products for degreasers, de-icers, and vehicle body cleaning solutions.
Innovative partnerships and testing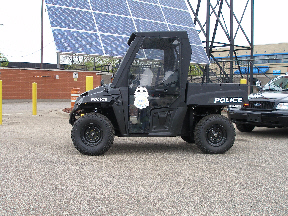 A partner with the National Biodiesel Board and Clean Cities Minnesota on new technologies and practices.
Partnering with the University of Minnesota and Minneapolis Solid Waste and Recycling to test the use of an all-electric garbage truck.
Test site for loaders being outfitted with diesel after treatment filters.
Potential test site for use of a new hybrid backhoe.