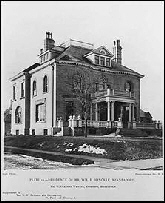 1890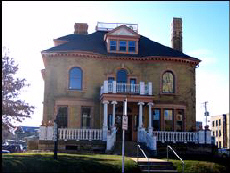 2006
Address: 619-621 South 10 th Street
Neighborhood:
Construction Date:
Contractor: Unknown
Architect:
Architectural Style:
Historic Use:
Current Use: Commercial - Offices
Date of Local Designation: 1998
Date of National Register Designation: September 20, 1984
Area(s) of Significance: Architecture, Master Architect, Commerce
Period of Significance: 1800-1899, 1900-
Historic Profile: The William H. Hinkle House survives as a remaining trace of the once elegant residential South 10 th Street, bordering downtown Minneapolis. Well-known architect William Channing Whitney was commissioned by William H. Hinkle, a leading flour producer, to design a prominent urban residence. Whitney, who was never regarded as a design innovator, chose a variant of the Georgian Revival style of architecture. The result is a distinguished structure, with a formal, symmetrical façade. Apart from layers of white paint and the removal of a balustrade, the house and its lot appear today as they did in 1887.
Photo Credits:
1890, Alanzo H. Beal, courtesy of The Minnesota Historical Society
2006, Minneapolis CPED
Works Cited:
"National Register of Historic Places – Nomination Form," February 1984.
Updated: February 2007