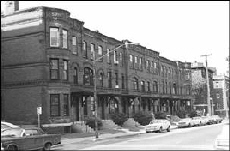 1974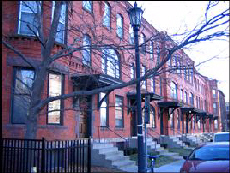 2006
Address: 115-29 West 15 th Street
Neighborhood:
Construction Date:
Contractor: Unknown
Architect:
Architectural Style:
Historic Use:
Current Use: Residential – Multiple Dwellings
Date of Local Designation: 1985
Date of National Register Designation: N/A
Area(s) of Significance: Architecture, Community Planning
Period of Significance: 1800-1899, 1900-
Historic Profile: The eight-unit rowhouse, built in 1886, was designed by locally prominent architect Adam Lansing Dorr. Intended to house upper-class residents, the rowhouse was the first of its type constructed south of Loring Park. In the last quarter of the nineteenth century, the area surrounding the park was an elite neighborhood consisting primarily of single-family residences. The rowhouse was the anchor to what subsequently evolved in the twentieth century -- an area heavily concentrated with multiple-family units. The subdivision, and eventual removal, of most single-family homes and the construction of apartment buildings resulted in the alteration of the area's original low-density fabric. The rowhouse stands remarkably intact even through the decades of change. The original owners of the West Fifteenth Street Rowhouse were C.C. Jones and C. Elwood Brown. Both men were active in real estate ventures and were familiar with the work of local architect Adam Lansing Dorr. Dorr's Romanesque Revival design for the rowhouse was both attractive and functional. Using a simple rectangular plan, Dorr created an aesthetic front façade by using a variety of fenestration and sash elements and in combing various materials to form a textured surface.
Photo Credits:
1974, courtesy of the Minnesota Historical Society
2006, Minneapolis CPED
Works Cited:
"Local Heritage Preservation Designation Study," January 1982.
Updated: February 2007