About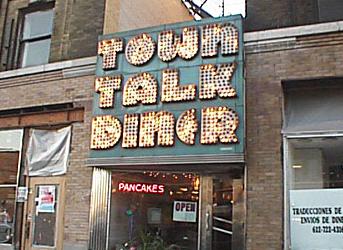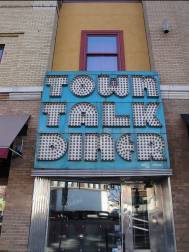 Address: 2707 ½ East Lake Street
Neighborhood: Longfellow
Construction Date: 1946
Contractor: Sebco, Inc.
Architect: Sebco, Inc.
Architectural Style: Streamline Moderne
Historic Use: Restaurant
Current Use: Restaurant (vacant)
Date of Local Designation: 2013
Date of National Designation: N/A
Area of Significance: Architecture; Broad patterns of social and economic history; Unique/innovative pattern of development.
Period of Significance: 1946
Historic Profile: The Town Talk Diner is a narrow two-story building constructed in 1946 as infill development between two larger, older buildings, near the intersection of 27th Avenue South and East Lake Street. The well-preserved storefront is designed in the Streamline Moderne style and features many hallmarks of the style, including the vertical wave/ribbing pattern found next to the window and on the side adjacent to the door, the form of the front door itself, the use of metal to compose the entire storefront, the sign and the use of lighting on the sign.
The large "Town Talk Diner" sign over the first floor is the most striking detail of the small façade. This large sign helped the diner stand out, calling attention to the diminutive storefront along Lake Street, which was an important streetcar route when the diner opened, and continued to be an important vehicle route after the shift to automobiles as the preferred transportation method in the City.
In addition to being a strong, if small, example of Streamline Moderne architecture, the Town Talk Diner exemplifies a unique and creative form of development in the post-war period, efficiently using a small space by using an eye-catching sign to draw customers in.
Photo Credits:
Internet
2011, CPED Staff
Works Cited:
Mpls Designation Study, January 2013
Updated: May 2013