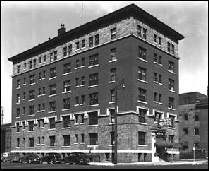 1950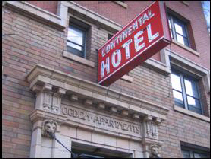 2006
Address: 66-68 12 th Street South
Neighborhood:
Construction Date:
Contractor: Unknown
Architect:
Architectural Style:
Historic Use:
Current Use: Residential – Multiple Dwellings
Date of Local Designation: 1992
Date of National Register Designation: 1992
Area(s) of Significance: Social History
Period of Significance: 1910-1941
Historic Profile: The Ogden Apartment Hotel represents an important example of an unusual housing type for middle-class residents during the early twentieth century. Responding to an increasing demand for middle-class housing at the turn of the twentieth century, apartment hotels gained popularity in Minneapolis for a brief period. Unlike an apartment building, apartment hotels lack private kitchens. Instead, residents eat from a common restaurant in the building. Owner James Ogden envisioned an urban lifestyle for middle-class residents, placing the apartment hotel just south of the city's commercial and cultural districts. Housing predominantly single men and women, the Ogden also appealed to couples without children. Modern conveniences of the time, including private bathrooms, "disappearing wall beds" and electrical appliances were all available at the Ogden. In 1948, the name was changed to the Continental Hotel.
Photo Credits:
1950, Norton and Peel, courtesy of the Minnesota Historical Society
2006, Minneapolis CPED
Works Cited:
"National Register of Historic Places – Nomination Form," June 1991.
Updated: February 2007