About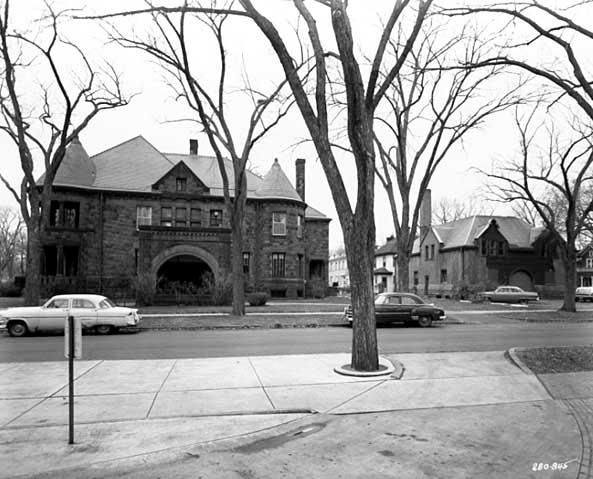 1962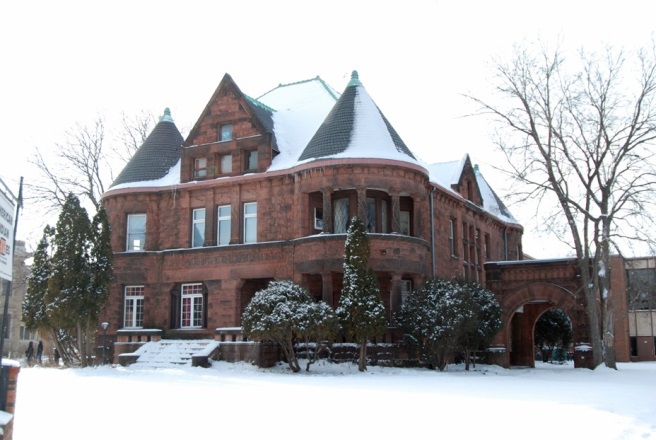 2013
Address: 2200 Park Avenue
Neighborhood: Phillips West
Construction Date: 1892
Contractor:
Architect: George Bertrand and Walter Keith
Architectural Style: Richardsonian Romanesque
Historic Use: Residence
Current Use: Vacant
Date of Local Designation: 2016
Date of National Register Designation: N/A
Area(s) of Significance: Cultural and Social History; Architecture; Neighborhood Development; Master Architect; Significant Persons
Period of Significance: 1892-1935
Historic Profile: The mansion at 2200 Park Avenue was built for Sumner T. McKnight, Sr. who as a successful lumberman, real estate pioneer, and well-known philanthropist and supporter of the arts, played a key role in the City's early growth and expansion. Sumner T. McKnight was born in Truxton, New York in 1836. By the time that he was 20 years old, he was living in Wausau, Wisconsin where he was already engaged in the lumber business. Shortly thereafter, he incorporated his own firm, S.T. McKnight & Company. He was one of the founders and treasurer of the Northwestern Lumber Company from 1871 to 1898 at which time he was elected that body's president. Although he is most closely associated with the lumber business he had ties to the financial world as well and served as vice president of the Flour City National Bank. He built the McKnight Building, one of Minneapolis' first modern skyscrapers.
The mansion's exterior is made of Lake Superior sandstone in the Richardsonian Romanesque Style. The bulky stone give Romanesque buildings a feeling of great strength and solidity. The naturalistic carvings suggest that the plant forms and the stone itself might have grown right out of the ground. The asymmetry announces a disregard for classical convention. Several of the decorative elements of the McKnight Mansion depart slightly from a strict adherence to Richardsonian Romanesque design principles. A frieze that is approximately fifteen inches high contains a repeating pattern of two-dimensional flower, stem and leaf forms that are highly stylized. The plants differ from the Richardsonian Romanesque style in that they are not naturalistic (i.e., they are not any recognizable species). An egg-and-dart string-course, more typical of the Ionic order of ancient Greek architecture, runs along the top of the frieze.
The setting of the McKnight residence on Park Avenue, the city's "Golden Mile," makes it a distinct element of Minneapolis architectural and landscape identity. Beginning in the late 1800s, as commercial development was encroaching on the original mansion districts in downtown Minneapolis (located around Fifth Avenue South and Seventh Street and in and around the Loring Park neighborhood), the city's earliest, most influential and wealthiest residents and business elite (magnates in the then-booming lumber, grain, real estate, and newspaper industries) sought refuge in outer-lying areas where they could build more tranquil "urban estates." They wanted to be far enough outside of the urban core to offer desired peace and quiet and protection from further commercial encroachment, yet close enough to downtown for an easy commute to and from their businesses, shopping and entertainment. Park Avenue quickly became the residential district of choice and the city's most fashionable street for building large, opulent, architect-designed homes.
The mansions of the Golden Mile were designed in an array of popular nineteenth and early-twentieth century architectural styles, all rendered by Minneapolis' most popular and prolific architects, including William Channing Whitney, Harry Wild Jones, Boehme & Cordella, Kees & Colburn, Franklin Long, Lowell Lamoreaux, Orff & Joralemon, LeRoy Buffington, Charles Sedgwick, Bertrand & Chamberlin, Septimus J. Bowler, Theron Potter Healy, Bertrand & Keith, and others.
The work of architects George Bertrand and Walter Keith represents a variety of architectural and building types. They worked as partners from 1890 until 1894, a period that includes the construction of the McKnight Mansion. Their shared portfolio also includes the Scandinavian Bank Building (1895), located at 517 Marquette Avenue, and a residence at 1912 Girard Avenue South (1894).
Photo Credits:
1962 – Minnesota Historical Society
2013 – Sue Hunter Weir
Works Cited:
"2200 Park Avenue – The Sumner T. McKnight Mansion," 2016.