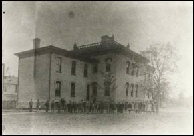 1882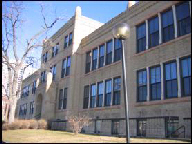 2006
Address: 501 East 15 th Street
Neighborhood:
Construction Date:
Contractor: Unknown
Architect: Walter Pardee
Architectural Style:
Historic Use:
Current Use: Residential – Multiple Dwellings
Date of Local Designation: 1983
Date of National Register Designation: N/A
Area(s) of Significance: Architecture, Education
Period of Significance: 1800-1899
Historic Profile: Noted for both its role in educational history and its distinguishing architectural characteristics, the Madison School is a highly visible Minneapolis landmark. The Madison school site has the longest continuing history of enrollment in Minneapolis school system, lasting 112 years from 1870 to 1982. The building, constructed in two phases by Walter Pardee was begun in 1887 and completed by 1889. The first phase of construction consisted of eight rooms and the second of twelve. Notable features of the school building include the semi-circular arched entry, tourelles, carved stone finials and parapet brickwork.
Photo Credits:
1882, courtesy of The Minnesota Historical Society
2006, Minneapolis CPED
Works Cited:
"National Register of Historic Places – Nomination Form," June 1982.
Updated: February 2007