1985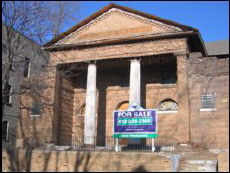 2006
Address: 614-20 East 15 th Street
Neighborhood:
Construction Date:
Contractor: Unknown
Architect: S.J. Bowler
Architectural Style:
Historic Use:
Current Use: Vacant
Date of Local Designation: 1986
Date of National Register Designation: 1986
Area(s) of Significance: Architecture, Cultural History
Period of Significance: 1800-1899
Historic Profile: As the first Christian Scientist Church constructed in Minnesota, First Church of Christ Scientist congregation placed a great emphasis on the structure's architecture. Located in a residential area of Elliot Park, architect S.J. Bowler chose a small-scale design of the Doric order. The Doric order was believed to be the oldest, simplest, and most adaptable form of Greek architecture. Only two buildings – The University of Minnesota Library (now Burton Hall) and the First Church of Christ Scientist – remain as examples of this style in Minneapolis. The front exterior of the church features a deep portico with two fluted columns reaching up to the low pitched, pedimented gable. Etched in the brick masonry are the words "First Church of Christ Scientist." Bowler made good use of a small budget (only $13,000) by adopting the scale of its residential neighbors, mainly Victorian homes which have now been replaced by multi-family units.
Photo Credits:
1985, Minneapolis Heritage Preservation Commission
2006, Minneapolis CPED
Works Cited:
"National Register of Historic Places – Nomination Form," August 1985.