1985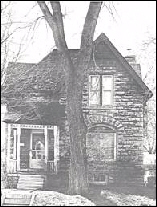 2006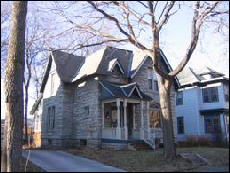 Address: 1031 13 th Avenue S.E.
Neighborhood:
Construction Date:
Contractor: Donald Cattanach
Architect: Donald Cattanach
Architectural Style: Cottage
Historic Use:
Current Use: Residential – Single Family
Date of Local Designation: 1985
Date of National Register Designation: N/A
Area(s) of Significance: Architecture
Period of Significance: 1890 –
Historic Profile: The Cattanach House is significant for its atypical use of roc-faced limestone for a single-family house. In the nineteenth century, limestone was commonly used in the construction of industrial and commercial buildings, but was extremely rare in residences. Built by Donald Cattanach, a mason by profession, the house exists today a rare local example of an innovative building material for a cottage-size structure.
Photo Credits:
1985, Minneapolis Heritage Preservation Commission
2006, Minneapolis CPED
Works Cited:
"National Register of Historic Places – Nomination Form," November 1981.