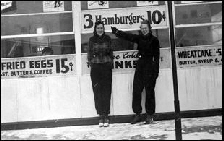 1939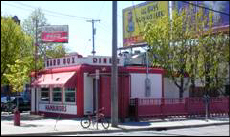 2005
Address: 729 10 th Street South
Neighborhood:
Construction Date:
Contractor: Butler Manufacturing Company
Architect: Unknown
Architectural Style: Vernacular/Programmatic
Historic Use:
Current Use: Commercial - Restaurant
Date of Local Designation: 2000
Date of National Register Designation: N/A
Area(s) of Significance: Cultural History; Historic Person
Period of Significance: 1939 –
Historic Profile: As cars began to swarm the streets of Minneapolis in the 1920s and 1930s, local chains such as the Band Box Diners gained popularity throughout Minneapolis. Opening in 1929 at the center of the Elliot Park neighborhood, the design for Band Box Diner #1 responded to the increasingly car-transported population with "programmatic" architecture: it mimicked its products (a coffee shop in a building designed as a giant coffee pot, for example). Modeled after White Castle restaurants, the owners of the Band Box chain, Harry and Bert Weisman (later changed to Wyman to deflect a highly anti-Semitic culture) envisioned a clean, fast and inexpensive alternative to dining out. The 14 eventual locations of the Band Box were all designed and assembled by the Butler Manufacturing Company using pre-fabricated steel that could be molded into a single piece. The interiors were completed in the classic diner style with an open kitchen, a Formica counter and fixed stainless steel stools. The Band Box Diner was open all night and because of its location, design and hours of operation, it became a gathering spot for people from many walks of life. In fact, Band Box Diners were rumored to be the notorious hangouts for infamous Minneapolis gangsters such as Kid Cann. Providing a glimpse into the culture of the 1930s and 1940s, the Band Box Diner remains a significant contribution to the historic fabric of Minneapolis.
Photo Credits:
1939, courtesy of The Minnesota Historical Society
2006, Minneapolis CPED
Works Cited:
"City of Minneapolis Heritage Preservation Commission Registration Form," 2000.
Updated: February 2007