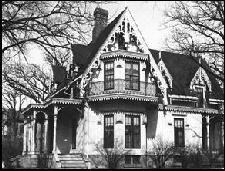 1948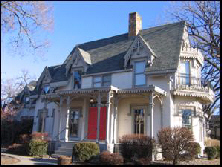 2006
Address: 400 10th Avenue S.E.
Neighborhood:
Construction Date:
Contractor: B.O. Cutter
Architect: B.O. Cutter
Architectural Style:
Historic Use:
Current Use: Residential – Multiple Dwelling – Fraternity
Date of Local Designation: 1976
Date of National Register Designation: N/A
Area of Significance: Architecture
Period of Significance: 1800-1899
Historic Profile: The B.O. Cutter House is both historically and architecturally significant. Master carpenter B.O. Cutter was working on several University buildings at the time he decided to build his home on the outskirts of the campus. The house was completed in a Carpenter Gothic style with intricate, hand-carved molding adorning the eaves. Cutter lived in the house until selling it in 1869 to John Gilifillan. Gilifillan was a prominent Minneapolis citizen who was an educator, regent, banker, attorney, and a U.S. representative. In 1943 the house underwent remodeling including removal of details and covering the siding with stucco. In 1949 the interior floor plan was altered to accommodate the Theta Delta Chi Fraternity. In early 1992 it suffered a devastating fire, but since has been beautifully restored. It now houses the Sigma Phi Epsilon fraternity.
Photo Credits:
1948, Gordon Ray, courtesy of the Minnesota Historical Society
2006, Minneapolis CPED
Works Cited:
"National Register of Historic Places –Nomination Form," August 1975.