Resources
Pacer Center – Provides programs for children and young adults with all disabilities, their parents and families, and the professionals working with the families.
Minneapolis Youth Works helps youth on the path to success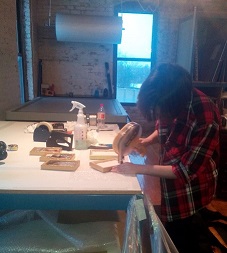 Olive, a struggling high school student, enrolled in the Minneapolis Youth Works program at East Side Neighborhood Services. With the help of Caryn, a work readiness coordinator, Olive started a twelve week internship at a custom framing shop.
It was Olive's first job and she felt that it was a great fit for her as she was able to use her creative skills and develop some new skills. On the completion of her internship, the framing company asked Olive to stay on and gave her raise to $9.50 per hour.
Olive said, "The staff of East Side's youth programs helped me tremendously with my own personal growth, transitioning to getting back into a more traditional school setting, and exploring my future possibilities. I'm very thankful for them."
An equal opportunity employer and service provider. A proud partner of the American Job Center network.