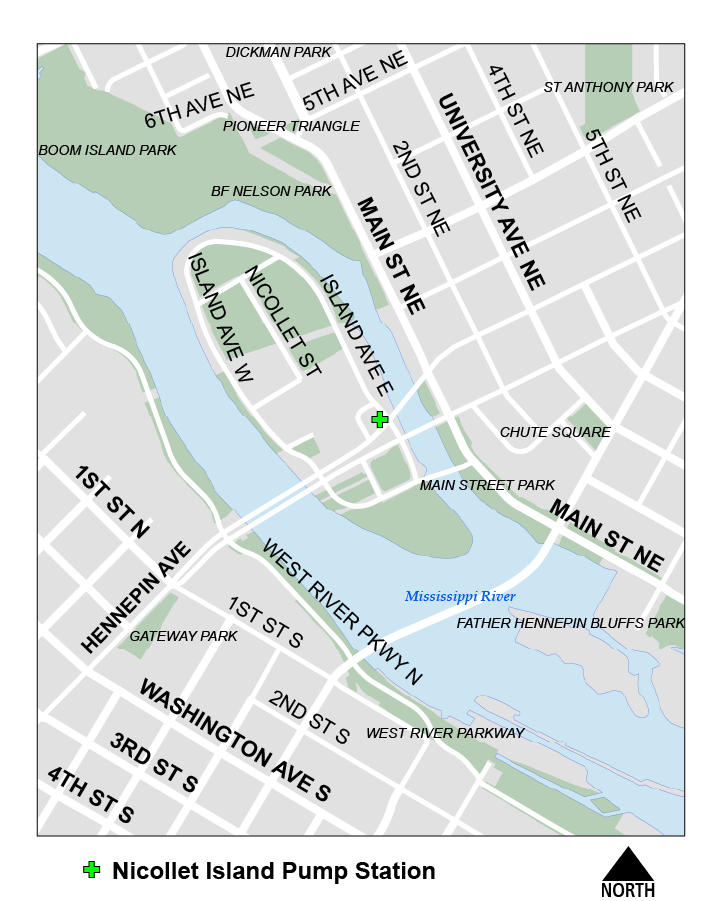 Project status
Completed.
Project details
Project type:
Construction of a small pump station to improve tap water circulation in the two water mains that serve Nicollet Island from the Saint Anthony side of the Mississippi River
Project benefits:
Installing two small pumps inside a pump house, the size of a one-car garage, will provide enough water circulation to alleviate concerns the water mains will freeze during the winter months. The exterior of the pump house will consist of granite pavers once used as a surface for city streets providing aesthetic value while taking advantage of an opportunity to re-use salvaged materials.
Project location:
The proposed pump house will be built into an existing slope adjacent to the First Avenue Bridge and a small parking lot owned by DeLaSalle High School.
Construction start date:
June, 2017
Duration of construction:
6 – 9 Months
Traffic impact:
Single lane closure of East Island Avenue with full closure limited to 1 to 2 weeks in the area of the Hennepin Avenue and 1st Avenue bridges.
Attachments:
Proposed Pump Station Aerial Rendering
Proposed Pump Station Overview Rendering