Salt mini-course
You can take our salt mini-course to learn how de-icing salt impacts the environment. It takes 30 minutes to complete.
Introduction
The concern
Every winter, salt is used to melt ice on our streets and sidewalks to make them safer. However, salt is a major concern for all bodies of water. The salt is carried away as snow melts into our storm drains, which empty into our waterways.
Chloride, a compound found in salt, permanently pollutes our
lakes
rivers
groundwater
streams
wetlands
Salt also causes costly damage to
buildings
vehicles
plants
Many of us use more salt than we need to effectively melt ice. We encourage you to prioritize physical removal of snow and ice with shoveling and scraping.
Quick facts
Salt is the top source of chloride use in Minnesota.

Salt harms fish and plant life.

​

Many overuse salt. More salt does not

equal more melting.

78% of salt applied in the metro area ends up in groundwater or local lakes and rivers.
How to complete the course
Read through the following sections below and watch the videos.

Upon completion,

take the Salt Stewardship Pledge and you may request to be sent a salt decal to display

your commitment to protecting our local waters.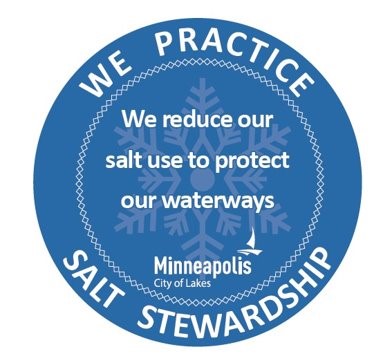 Salt is a permanent pollutant
Once in the water, there is no easy way to remove salt. Imagine pouring a packet of salt into your glass of water, how would you remove the salt after it dissolves? Now, imagine trying to remove the tons of salt that end up in our freshwater. This is not possible. The salt we use today will remain in our waters forever. Instead, physically remove snow and ice early and often. Only if needed, use salt sparingly with the best practices outlined in this mini-course.​
​
Major impacts
Drinking water
Most natural water contain traces of chloride (salt), but too much can affect the taste of drinking water. Over 30% of the wells in the Twin Cities have chloride concentration that exceed the water quality standard.
Aquatic and wildlife
Salt pollution impacts the health of wildlife, such as birds and mammals. Birds often mistake salt crystals for seeds, consuming even small amounts can result in death. Mammals like deer may drink salty snow melt resulting in salt toxicity. Salt can cause declines in sensitive species and reduce natural diversity.​
Salt in surface water can be toxic to aquatic species like fish, insects and amphibians. Elevated levels of salt threaten the health of food sources and pose a risk to species survival, growth and reproduction.
Even non-chloride de-icers impact water quality. These alternatives may biodegrade, but that requires oxygen, leaving less available for aquatic life. Depleted oxygen levels create competition for available oxygen, leading to Biochemical Oxygen Demand (BOD) and other issues. The bottom line: de-icers don't belong in our freshwater.
Pets
Pets may consume de-icing materials by eating them, licking their paws, or drinking snow melt. Exposure to salt can cause irritation, inflammation, and cracking of paw pads. Be mindful of using salt to protect the pets in your neighborhood. Salt labels are not regulated. There is no such thing as "pet safe" de-icing salt.
Infrastructure
Salt corrodes concrete on bridges, parking lots and buildings, leading to compromised structural integrity and increased maintenance and repair costs. Salt accelerates rusting, causing damage to vehicle parts and other prone materials.
Cost
Many of us are over salting. Save your money while still prioritizing safety by using best practices for ice removal shared in this mini-course.
What can I do to help protect our waters?
Unfortunately, there are no environmentally friendly alternatives to salt that can melt snow and ice. However, we can use the best practices identified in the tips and videos below. Using physical removal of ice use helps protect our our waters, wildlife, infrastructure and is more cost effective. Safety is always priority, remember, applying more salt does not mean more melting.
Safety comes first: ​
Slow down. Drive for the conditions and make sure to give plow drivers plenty of space to do their work.
Be patient. Just because you don't see salt on the road or sidewalk doesn't mean it hasn't been applied.
Identify what common ice spots are being caused by. Do you have a rain gutter down spout pointed towards your driveway or a low spot in your concrete? Help remove icy spots by fixing root causes.
Spread the word. Share this Mini-Course with your friends and coworkers and post signs near your salt containers and at

your community buildings. See printable posters under "Resources."
Best practices of snow and ice removal:
Your first tool for snow and ice removal should always be physical removal via shovel, ice chisel, snow blower, broom, or leaf

blower. (Never put snow down storm drains or gutters.)
Shovel snow promptly after snowfall to prevent compacting and forming ice.
Break up ice using an ice chisel. Avoid using salt.
If ice persists, spread a light layer of sand on top of ice. Sand provides

traction, but

does not melt ice. Sweep up sand for

reuse after ice melts naturally.
See videos for in-depth examples.
Best practices of using salt:
Always use physical removal of snow and ice first.
If ice persists after physical removal, use salt sparingly.
Only apply salt on ice. Salt should not be applied on bare pavement.
If you see salt on bare pavement, it is not doing any melting work and will wash away into our lakes and rivers. Sweep up extra salt for reuse.
Use spot treatment. Apply salt in specific icy problem areas.
Apply efficiently. More salt does not mean more melting.
Use a light spread. Approximately, each grain of salt should be spaced three inches apart. See manufacturers labeled directions.
A 150 square foot area, the area of a parking stall, only needs eight ounces of salt. Eight ounces is a small coffee cup of salt.
Store salt in covered or airtight containers to maintain quality and prevent leaking.
Post signs near your salt containers for reminders on best application practices. See "Resources" for posters.
Salt effectiveness in different temperatures
Quick tip: Do not apply salt on very cold days. Use sand for traction on icy spots.
How effectively salt can melt ice is dependent on the pavement temperature. ​Pavement temperature refers to the temperature of the ground, which may be different than the air temperature we use to describe the weather outside. Knowing pavement temperature is the best, but the air temperature is close enough if you don't have a way to measure the pavement of temperature. Use the table below as a general guideline. Visit the Minnesota Pollution Control Agency for more information on how different salt blends work in colder pavement temperatures.
Key Takeaways
Shovel and scrape promptly and often. Clear walkways before snow turns to ice and avoid using salt.
Scatter salt lightly only where needed. Aim for three inches of space between salt grains.
Reduce applying. Salt only goes on icy spots. Do not put salt on bare pavement that has no ice.
Sweep up and reuse leftover salt after ice melts. Leftover salt is a sign of over salting.
Safety first. Walk slowly and carefully on icy ground.
Take our Salt Stewardship pledge
Conclusion
Shovel and scrape promptly and often. Clear walkways before snow turns to ice and avoid using salt.

Safety first, walk slowly and carefully in icy

conditions.

More salt does not mean more

melting.

Salt is a permanent pollutant that damages our waters and

wildlife.
Thank you for taking the Salt Mini-Course.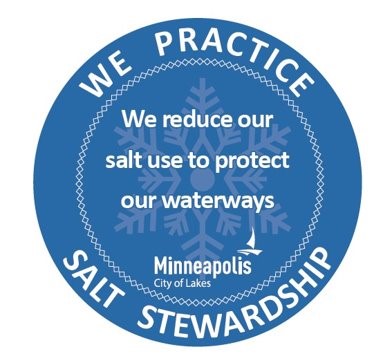 Spread the message on over salting and share the Salt Mini-Course.
Notes
Content provided with permission from: Mark Pedelty and the Econsong.Net Collective,​
Mississippi Watershed Management Organization (MWMO), and Minnesota Pollution Control Agency (MPCA).​
Minneapolis salt reduction measures
You can learn about the measures we use in Minneapolis to reduce salt use during snow and ice removal.
Request accessible format
If you need help with this information, please email 311, or call 311 or 612-673-3000.
Please tell us what format you need. It will help us if you say what assistive technology you use.
Shahram Missaghi
Water Resources Coordinator
Surface Water & Sewer Division
Public Works