Community engagement
You can take part in creating the City's new Climate and Equity Plan.
Provide input
Community engagement is important to developing a new climate equity action plan. You can give input about our next plan in the several ways.
Community input survey
Complete the online survey. You'll help let us know what's important to you. Your responses are anonymous
Attend a listening session
Take part - attend a listening session. The community input, feedback, guidance, and perspective received will be used in the creation of the new plan.
It will inform the entire planning process for our new Climate and Equity Plan.
The City of Minneapolis serves a diverse community. We each bring a unique perspective to the issues and opportunities presented by climate change. We recognize that our changing climate affects some of us more.
We hope the following communities will be represented to share their views:
Black
Indigenous
Communities of color
Immigrants
Older and younger adults
People with disabilities
Under-resourced residents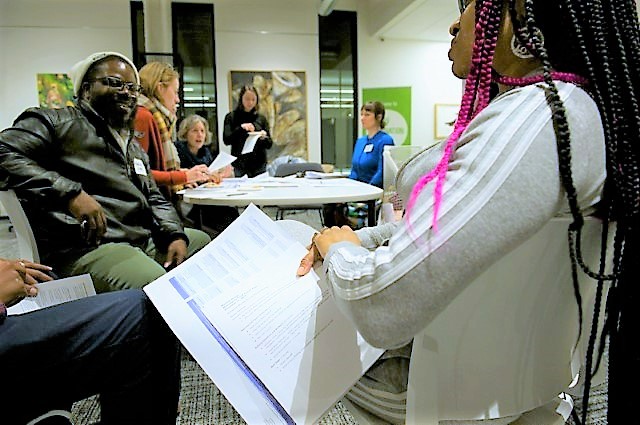 Join a workgroup
The workgroup role is to:
Review relevant existing plans related to climate change
Identify policies and strategies that will support the plan
Identify gaps from current plans to develop ambitious climate targets
Offer suggestions to refine established goals that may have not been explored
Workgroup members:
Consist of technical and community experts
Attend a minimum of three meetings:

Initial workshop
Progress check-in
Final group approval of recommendations
If you're interested in joining a workgroup:
Steering Committee community involvement
The committee role is to:
Bring together varying viewpoints
Serve as a sounding board and guiding voice
Ensure that we meet our targets equitably
Ensure that the work is headed in the right direction
Share insights to ensure that the plan achieves carbon goals and benefits all Minneapolis residents
Committee participation:
Members consist of 12 technical and community experts
Attend monthly meetings during the planning process
Past climate equity listening sessions
Open Streets - West Broadway
Sept. 10, 2022
Attendance type: In-person
Northside Green Zone Task Force
Sept. 6, 2022
Attendance type: In-person
Urban League Family Day
Aug. 27, 2022
Attendance type: In-person
Community listening session
Aug. 27, 2022
Attendance type: Virtual
Community listening session
July 28, 2022
Attendance type: Virtual
Minneapolis Sustainability
Address
Public Service Building
505 Fourth Ave S., Room 520
Minneapolis, MN 55415