Project details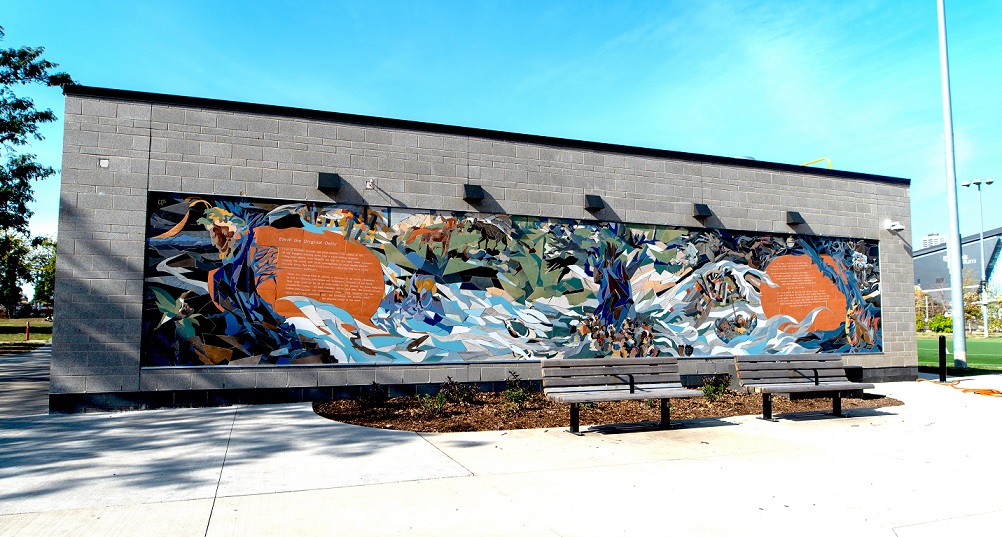 Partners: Minneapolis Park & Recreation Board
Budget: $100,000
Status: This project is complete.
As Currie Park undergoes renovations and improvements, The City of Minneapolis invited public artists to work with residents of the Cedar Riverside area to create a new two-dimensional public artwork.
Currie Park occupies land sandwiched between two light rail lines (the Green Line and Blue Line), I-35W, and 15th Avenue. It is one of the very few green spaces in the densest neighborhood in Minneapolis outside of downtown and heavily used despite its relatively small size. Today, there are more than eight thousand residents who call this area home, 50% of whom are of East African descent including Somali, Oromo, Ethiopian, Eritrean, and more. Other residents include, but are not limited to, Korean, Iraqi, Russian, and Turkish Americans.
Artist Craig David was selected by a panel of community members, artists, arts and design professionals, and others to design and fabricate an approximately 370 square foot, two-dimensional public artwork for the new park building at Currie Park. The goals of the project include:
Embracing and reflecting the place and the diverse communities of people who use Currie Park– their values, history, and culture.
Engaging this community – especially, immigrants, youth, and families in the design and creation of the artwork.
Artistically enhancing the new Currie Park infrastructure through the creation of a fun, bright, and bold public artwork.
Supporting the creation of a welcoming and safe experience for people of all backgrounds and walks of life.
The mosaic, made from hand cut tile, is in Currie Park next to a new community splash pad, playground and facilities building. It features original poetry by Deeq Abdi and cultural stories collected from community members.
The mosaic features stories gathered from conversations with community members from nine cultures that have called Cedar Riverside home, including Mayan, Somali, Oromo, Czech, Scandinavia, Hmong, Korean, Dakota, and Ojibwe. The central image is an oda or sycamore tree, respected by the Omoro as a symbol of tranquility. This summer, community members assisted David in installing the stone and porcelain mosaic, by adding tiles during two weekend workshops.