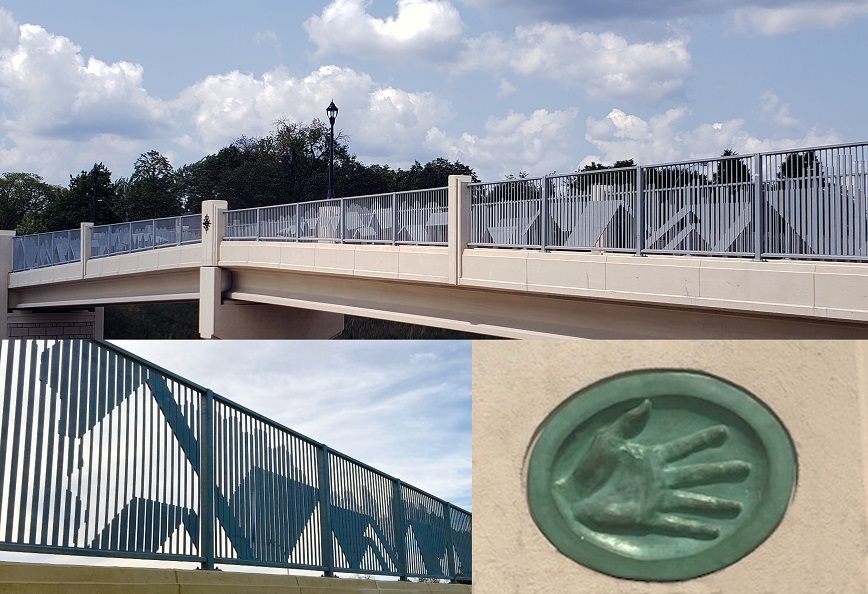 Partners: CPED, Public Works, MNDOT
Budget: $75,000 (does not include railing fabrication)
Artist: Seitu Jones
Artist Seitu Jones has designed a railing for the new 40th Street Pedestrian Bridge, which will span I-35W at 40th Street, serve pedestrians and bicyclists and link the east and west sections of the River Lake Greenway. The project was selected for Art in Public Places—the City's percent for art program—by the Public Art Advisory Panel from the City's Capital Improvement Program. The Minnesota Department of Transportation (MNDOT) is the lead agency on this project and the City has been working in partnership with them on the bridge.
The artwork on the bridge features a steel railing and Adinkra symbols and cast bronze hands. It speaks to the history of the community, depicting the hundreds of low-income and minority families that were displaced to make way for highways both here in the Twin Cities and across the U.S. Looking through the rails of the bridge, the sights of I-35W and Downtown St. Paul reminds us of our complex history and the challenging path ahead of us to ensure equitable, healthy, and safe futures for everyone.
The railing design portrays a view of the neighborhood and its tree canopy. On the center pilasters are the Adinkra Symbols for unity and democracy. These symbols originated in West Africa and were traditionally applied to cloth. The open over-sized bronze hands represent the bridge as an embrace between two sides of Interstate 35. Cast into the four bridgeheads they greet and welcome walkers and cyclists.